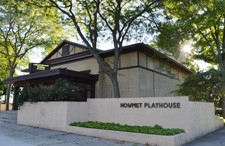 The Lewis House Bed & Breakfast is proud to have Whitehall, Michigan's historic Howmet Playhouse as its next door neighbor and is quite honored to have a front row seat to the 100th birthday of this local treasure.
Originally known as The Nufer-Adams Playhouse, the theater was built in 1916 by local lumber baron, James Nufer, and well known Chicago director, Frank R Adams.  With the building design copied from The LaSalle Theater in Chicago, the playhouse was built for all variety of live theater productions and for viewing motion pictures which were then known as 'flickers'.
A ticket stub found in The Lewis House shows that at some point in its history, the community theater's name was The Playhouse Theater.  It was renamed as the Howmet Playhouse in 1973 when Blue Lake Fine Arts Camp took over ownership.  During that same time, Blue Lake Fine Arts Camp also owned The Lewis House.  In those days, The Lewis House was not a bed & breakfast, it was used for music lessons and for housing actors that were in town to perform at the theater.  Rumor has it that there were some very nice parties at The Lewis House during those times!  Eventually, Blue Lake Fine Arts Camp built a new theater on its campground property and donated the theater its current owner, the City of Whitehall.
Whoever owns it and however it is named, this century old community gem has been entertaining audiences since its opening and continues to provide a fantastic venue for a multitude of live acts, film screenings and much more.
Upcoming events at The Howmet Playhouse include:
Saturday, March 5, 2016 – Music for Meals presents a Night at the 'Met
Fundraiser for White Lake Food Pantry
Friday, March 11, 2016 – The Outside Track
Scots, Irish and Cape Breton Fusion of Songs, Tunes and Stepdance.
Saturday, March 19, 2016 – Ben Bedford in Concert with Special Guests Karen and Eric Smith
Saturday, May 7, 2016 – 9th Annual White Lake Blues Fest
Fundraiser for the Killer Blues Headstone Project which exists to provide headstones for blues musicians lying in unmarked graves.
The Howmet Playhouse



304 S. Mears Avenue, Whitehall
For full show schedule and ticket information visit www.howmetplayhouse.org
The Howmet Playhouse is right next door to The Lewis House Bed & Breakfast. It couldn't be more convenient to make this newly remodeled, luxury bed & breakfast set in a Victorian home your place to stay while you take in a show at The Howmet Playhouse and visit the White Lake area.